Following on from the news in 2016 that Lancashire County Council had taken the decision to close several of its museums, including Queen Street Mill and Helmshore Mills Textile Museum, English Heritage has just announced its decision not to acquire these two sites. For the moment, care and maintenance will continue but the museums will not re-open for the foreseeable future, if at all.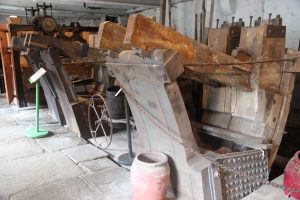 Higher Mill at Helmshore dates from c.1789 when the Turner family constructed a small, stone-built mill to enable local home-based weavers to have their cloth fulled without having to trek all the way across the fells to Rochdale. It possesses one of the very few remaining wooden fulling stocks driven by a water wheel (left. Click on the image for a larger version).
The second mill on the site, Whitaker's Mill, was a cotton mill which suffered the common fate of fire due to the flammability of cotton dust, but was rebuilt and equipped for condenser spinning which makes use of cotton waste. It was therefore a spinning mill, and so is complementary to Queen Street Mill which is for weaving.
The museum displays tell two stories, the Wool Story and the Cotton Story, and has quite recently been refurbished with an ingenious hub linking the two sites.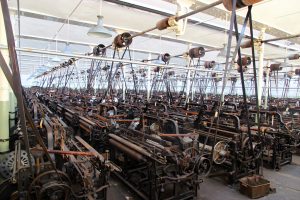 Queen Street Mill, dating from the 1890s, is the only surviving site in the world where the original steam engine is still fired daily and works the original weaving looms in the mill (left. Click on the image for a larger version).
It was run by a community of weaving concerns, not by an entrepreneur seeking a profit, and as such is a very rare example of this cooperative way of the community establishing a new mill for mutual benefit. The site has Grade 1 listing status.
Negotiations for the future will continue but a prolonged shut down with only static care and maintenance would certainly prejudice the resurrection of Queen Street Mill. Ian Gibson, former Curator of Industry and Technology, Museums Service, Lancashire County Council, has pointed out that the boiler flame bed is below mill pond water level and with no fires lit over many months the fire brick will get wet enough to start disintegrating. Given the importance of textiles to the British economy from the medieval period onwards, it is shameful that neither the County Council nor the body concerned with the conservation of historic places which bring the past to life consider these two sites worth saving.