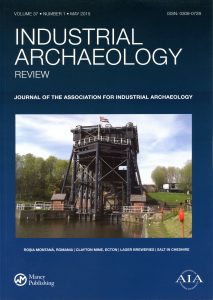 Founded by the AIA in 1976, Industrial Archaeology Review has long been the leading journal in its subject.
Its focal point and the common theme of its contents is the surviving evidence of industrial activity. Emphasis is placed on the practical aspects of a subject in which fieldwork plays an essential part, including recording, surveying, excavation, interpretation, conservation and protective legislation.
It is a peer-reviewed academic journal, with scholarly standards of presentation, yet seeks to encourage submissions from both amateurs and professionals which will inform all those working in the field of current developments.
Historically, much of its material has been gathered from within the British Isles but more recently the journal includes more international papers in its coverage of the subject, presenting material of relevance to those concerned with industrial archaeology throughout the world.
Industrial Archaeology Review is published by Taylor & Francis and is sent on paper to all paid-up members of the AIA and to institutions all round the world. AIA membership includes on-line access to all past editions.
Click this link T & F online for full access to IA Review online.
If you are interested in submitting an article for publication in Industrial Archaeology Review, please read our: Instructions for Authors
If you have any problems accessing the journal please contact support@tandfonline.com
Libraries, universities and similar institutions who wish to subscribe to Industrial Archaeology Review, please visit T & F Online for more information and to subscribe online, or email: library@tandfonline.com
Click to see a summary of the contents of all editions of IA Review
Back numbers of IA Review are available via the Sales page