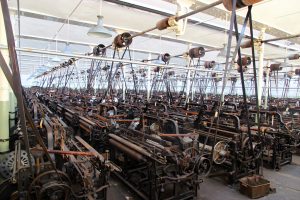 The Association for Industrial Archaeology has been working with local experts to draw up a nomination for Queen Street Mill in Burnley, the world's last surviving cotton weaving mill still powered by its original steam engine, to be included in the Europa Nostra 7 Most Endangered Sites Programme for 2018.
With further support from the Newcomen Society and the Victorian Society, the nomination has been accepted by Europa Nostra UK and put forward by them for inclusion on the 2018 list.
The Mill is not yet in a ruinous condition but since its closure to the public in September 2016 by Lancashire County Council as a cost-saving measure, neither the steam engine nor the machinery has been worked. This will in time lead to rapid deterioration, especially with the water-filled lodge alongside. The area is subject to vandalism and there have been numerous mill fires at disused Lancashire mills in the last few months, as reported in a previous issue of IA News.
No site in the UK has yet appeared on these biennial lists of the 7 most endangered sites in Europe, and we hope that Queen Street Mill may be the first, and that its inclusion may help in finding a solution for the future of this unique site.