Helen Featherstone has been appointed as the new Director of Sheffield Industrial Museums Trust.
Sheffield Industrial Museums are the showcase of Sheffield's industrial story from early industrialisation to modern times. They include the most powerful working steam engine remaining in Europe at Kelham Island Museum and the last complete surviving crucible steel furnace in the UK at Abbeydale Industrial Hamlet.
Locally based Helen joins the trust in July 2017 and brings with her a wealth of experience having worked in the arts and cultural sector for almost twenty years.
Helen is sad to be leaving the Arts Council England, where she holds a national role as Senior Manager for Engagement and Audiences, but is excited about the new opportunities here in Sheffield where she can continue to inspire and engage more people in arts and culture.
Having lived in Sheffield for over 30 years, Helen attended the city's Dobcroft and Silverdale schools before completing an MA in Cultural Policy and Management at Sheffield Hallam University.
Helen also started her career in Sheffield working for Dead Earnest Theatre and Vincent Dance Theatre and is currently a trustee of Sheffield-based participatory arts organisation Ignite Imaginations.
Helen will use her experiences and passion for the city to connect the work of the industrial museums with a range of local people in Sheffield and to attract those from further afield. Helen is interested in building on successes the industrial museums have had to date using different art forms to bring the 'world class' collections and heritage sites to life.
Helen has a specialist interest in arts and older people and the relationship between arts and culture and health and wellbeing which will build on the ongoing community work undertaken by the trust.
Speaking of her appointment Helen said,
"I'm especially thrilled to be leading the industrial museums at this transformative point in time. As everyone who lives here knows, Sheffield's industrial history and the act of making is completely ingrained in this city and has made it the vibrant place it is today.
Arts, culture and heritage are important as they help us to make sense of ourselves and the world around us. These museums have a special place in many people's hearts, and it is an absolute privilege to be able to use my skills to work in the place I call home. It is also an exciting time to be part of the cultural scene in Sheffield as there is so much happening in the city.
I look forward to working with the team to further make the work of the industrial museums relevant, useful and meaningful to people and local communities, and connect it to current innovation which is happening in the city today."
Alex Pettifer MBE, Chair of SIMT Board of Trustee said,
"I'm delighted to announce that Helen will be joining Sheffield Industrial Museums Trust as Director. With her widely respected creativity and commitment to innovation shown through her portfolio of roles, we are certain Helen has the skills and passion to re-imagine our vision and lead us into the next era to determine the new face of SIMT."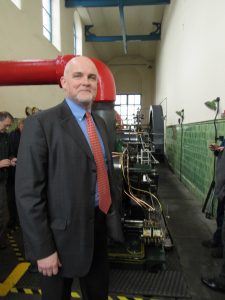 The appointment marks the beginning of an exciting new era for the trust and follows the retirement of long-standing Chief Executive, John Hamshere, in June.
During his 23 years of service, John worked tirelessly to bring investment into the trust's three heritage sites, Kelham Island Museum, Abbeydale Industrial Hamlet and Shepherd Wheel Workshop. After expertly leading the trust through a succession of impressive restoration projects, he leaves the organisation on an excellent footing to start this exciting new chapter.
Helen Featherstone will take up the appointment of Director of Sheffield Industrial Museums Trust mid July 2017.