AIA Award Winners 2019
AIA presented seven awards for various achievements in the field of industrial archaeology and heritage at its conference in Bridgwater in August 2019. Most were presented to the winners by the President, Professor Marilyn Palmer MBE, and the Dorothea Award by Geoff Wallis of Dorothea Restorations, also an AIA Council Member.
The Peter Neaverson Award for Outstanding Scholarship in Industrial Archaeology went to Dr. John Barnatt for his outstanding work on a landscape that few of us ever see, The Archaeology of Underground Mines and Quarries in England, published in 2018 by Historic England. He was unable to attend but was presented with his award at an evening lecture at the Peak District Lead Mining Museum in Matlock Bath on 15th October 2019.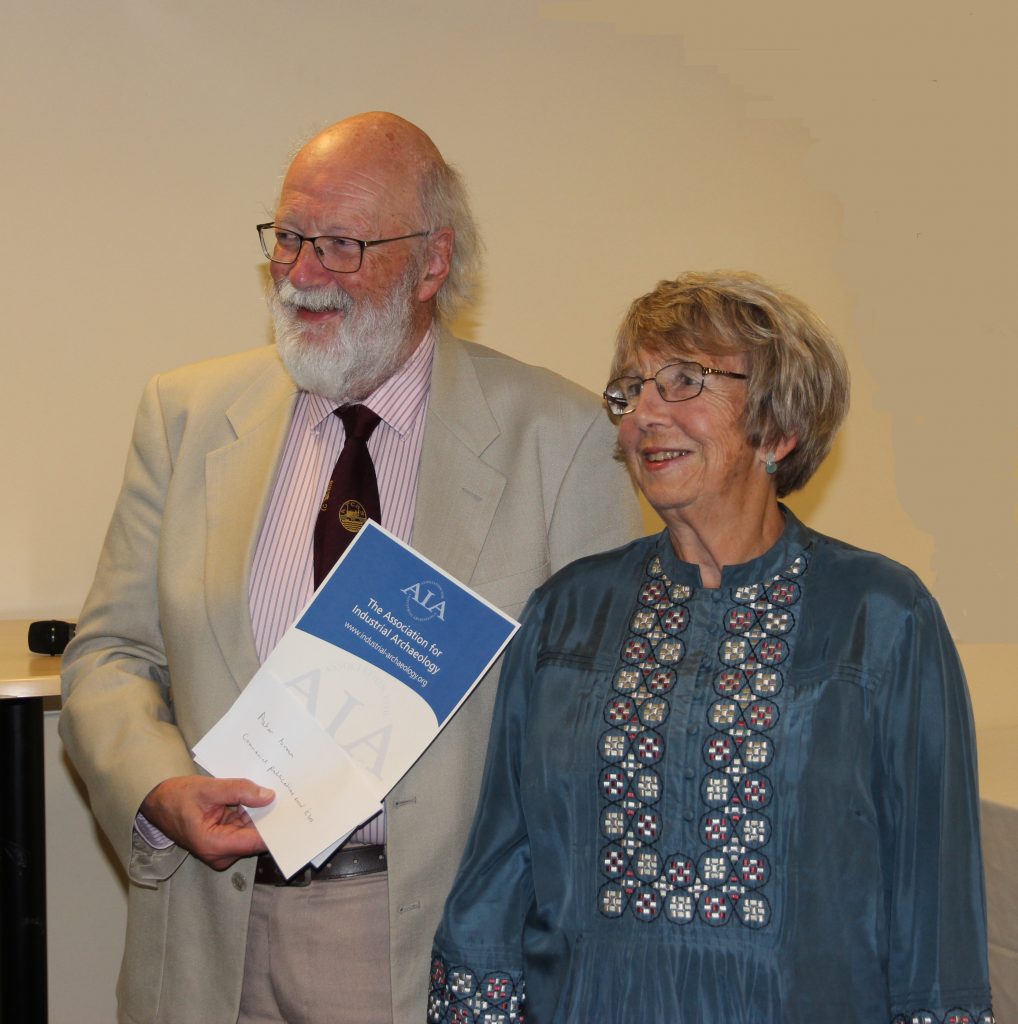 The Professional Publications Award went to Peter Brown (right) for his comprehensive work The Shropshire Union Canal – from the Mersey to the Midlands and Mid-Wales, published by the Railway and Canal Historical Society.
Highly commended in this category was Mine and Mill: The History and Archaeology of Tilberthwaite Mine, Coniston, by Northern Archaeological Associates Ltd. in association with the Coniston Copper Archive & Social History Group, which was resentenced by John Rowan Robinson.
.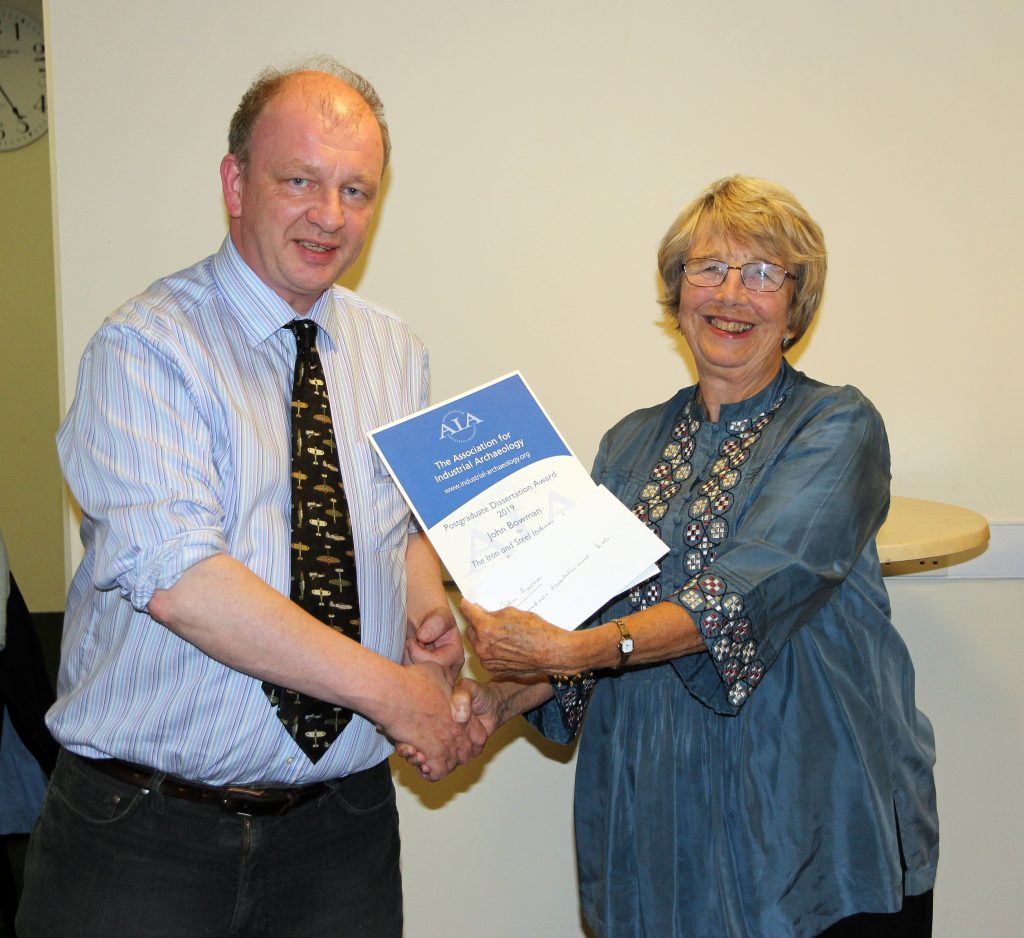 Two dissertation awards were given this year, the first for the PhD dissertation by Dr. John Bowman (left) on the University of Newcastle for The Iron and Steel Industry of the Derwent Valley, an account of the important works in the area around the surviving Derwentcote Steel Furnace in north-east England.
Samantha Frandsen gained the second award for her unusual MSc. dissertation for the University of Leeds entitled A geophysical investigation of an industrial archaeology site: the former Elsecar Gasworks. Such techniques are as yet uncommon on industrial archaeological sites.
.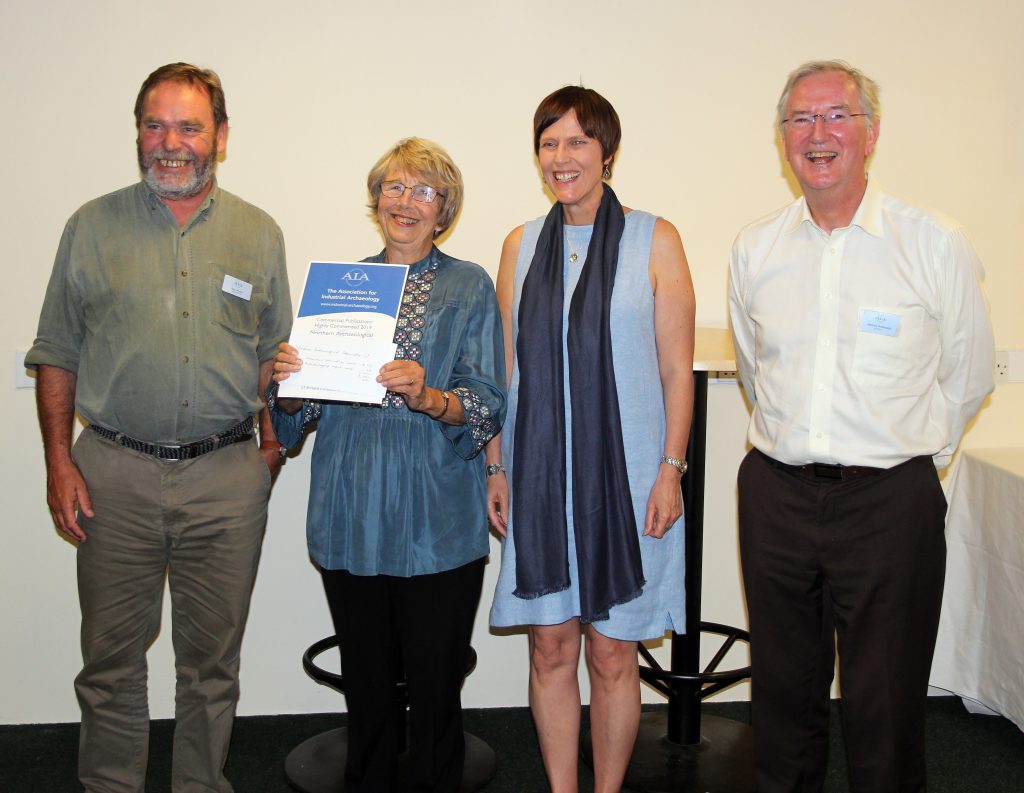 The Archaeological Report Award was shared between two entries, both from Northern Archaeological Associates: Low Bonsor Dressing Mill: Archaeological Community Landscape & Building Survey, and Penny Rigg Copper Mill: Archaeological Community Landscape & Building Survey, both by John Pickin, Penny Middleton and Kate Chapman.
These, together with their publication, The People of Coniston Copper: Life and Death in a Mining Village, demonstrated the value of community archaeology projects encouraged and supervised by professional archaeological contract units.
The Dorothea Award for voluntary conservation work on sites and artefacts of industrial, agricultural, and domestic importance went to David Pope (left in image) of Ellenroad Steam Museum in Rochdale for their rebuild of the Nottingham Railway and General Engineering Company's engine known as the Potclays Engine, now in steam in their museum in Rochdale.
The AIA also manages an award for creative re-use, which this year was won for an adaptation of the Engine Shed, Northampton, an ex-railway building converted for student use by Northampton University's Students Union; the plaque will be presented to them by the President in September.
There were two Research Grants awards: one to Charlotte Goudge covering her travel costs to Gamble sugar plantation, Ellington, Florida, an award of £820. The second was to Karen Pollock to record historic graffiti, 1860's to 1940's, at Dinorwic Quarry Hospital, Llanberis, Wales, a grant of £680
Charlotte has given us a short report about her researches: Click here to read (pdf 73KB)
All the prize-winners entertained conference members with interesting presentations on their projects on the Saturday afternoon, and demonstrated that industrial archaeology still figures in publications, archaeological reports and dissertations and in a variety of ways of presenting industrial heritage, whether digitally or on sites open to the public.
Thanks are due to the judges for these various awards and to those who provided the certificates, plaques etc.
We hope to have even more entries for next year which will be presented at our conference in Liverpool in August 2020. Visit the Awards page https://industrial-archaeology.org/aia-awards/ for the entry forms and rules.
Marilyn Palmer, President