The first Award for Digital Innovation was made to the Royal Commission on Ancient and Historical Monuments in Wales for their Hafod Copper Works animation, of the Swansea Copper Industry. Stephen Hughes (left) received the Award from President Marilyn Palmer at the Conference Dinner on board HMS Unicorn in Dundee.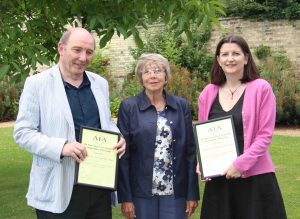 Kathryn Morrison and John Minnis received the Peter Neaverson Award for Outstanding Scholarship for their work "Carscapes" - the Motor Car, Architecture and Landscape in England.
In the latter part of 2012 the terms and prizes were reviewed and updated, and judging panels appointed. As well as the usual range of awards, a new Digital Initiative Award was instigated from the Peter Neaverson legacy fund (see above). To encourage scholarship and investigation in the industrial archaeology field, awards were made to students and individuals: A Peter Neaverson Award for Outstanding Scholarship was also made: To Bjørn Basberg for "The Shore Whaling Stations of South Georgia – a study in Antarctic industrial archaeology" For the first time since its establishment a Peter Neaverson Student Travel Bursary was awarded, to Scott Smith, a PhD student at Dundee University to travel to South Georgia with Bjørn Basberg. The Undergraduate Dissertation Award went to Lindsay Fricker of Manchester University for Investigating Human Movement in a (Post)-Industrial Landscape. The Postgraduate Dissertation Award went to Stephen Wass of Leicester University for A Way with Water: water resources and the life of an eighteenth century park. The Dorothea Award for a restoration project went to the Sherborne Steam and Waterwheel Centre.