I joined the AIA as a founder member of the Young Members Board (YMB) in June 2020 whilst studying an MSc in Sustainable Heritage Practice and am now Chair of the AIA.
The focus of my research was sustainable industrial futures, and it came at an especially significant time for sites of industrial heritage which were being battered by repeated flooding events and suffering loss of income due to the pandemic. My involvement with the AIA throughout this period gave me excellent access and insight to professional opinions on the matter, and a supportive network of likeminded people who were incredibly welcoming and I firmly believe my research (and mental health) was all the better for it.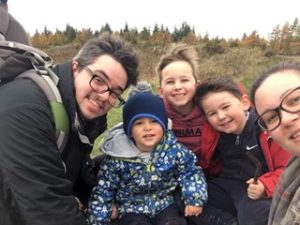 My interest in industrial archaeology spans more than 20 years; I was born and raised in Shropshire, hailed by many as 'The Birthplace of the Industrial Revolution'. With Ironbridge and Coalbrookdale on my doorstep, it was easy to grow-up loving this part of history. I frequented Blists Hill Victorian town throughout my childhood, and I now visit regularly with my husband and our 3 children.
Shropshire is also home to Snailbeach Lead Mines, perfectly preserved in the Shropshire Hills, a rambler's dream.
I'm lucky enough to connect with IA as part of my day job too as Heritage Management Archaeologist and Community Outreach Coordinator at Clwyd-Powys Archaeological Trust. This position enables me to engage with a variety of projects and consultations and it's where I developed my specialism in the archaeology of water supply through assessment of the industrial landscapes at Lake Vyrnwy and Elan Valley.
I have always loved canal infrastructure and held a deep appreciation for the ingenuity behind mining, brick and tile works as well as cast iron. As such, almost all of our family days out include an element of industrial archaeology, whether we mean it to or not! There is so much out there, if you know what you're looking for.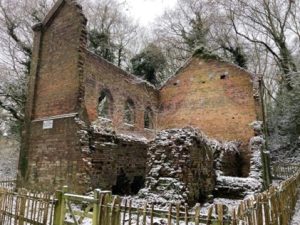 This photo is taken at the Granville Country Park in Donnington, a decommissioned coalfield which has been re-wilded, with an excellent bunch of volunteers who maintain the industrial buildings there. It is a great example of how industry and nature can come together to create places for well-being.
When I'm not out and about enjoying the historic environment, I like to be creative. I enjoy heritage crafts such as pottery, lino-cutting and loom weaving, and I've been able to share this joy with others during excavation outreach days through my work at CPAT and I hope, in future, to be able to share this with you at events such as the Coalbrookdale Festival of Archaeology.  
If you are studying IA, wondering how you can get involved, would like to know about the sector, are looking to expand your networks or gain experience in professional skills, please get in touch! 😊