I have been involved in the energy industry for most of my working life, as a financial analyst, a consultant, a senior executive for a large multinational oil and gas company and both a project and interim manager. My involvement has covered many aspects of the sector, ranging from conventional hydrocarbons such as oil, gas and coal through to most types of renewable energy and specialised areas such as underground coal gasification and carbon, capture, utilisation and storage.
My interest in industrial heritage probably started when I was very young, when we had two family canal holidays – one on the ILlangollen Canal and the other on the Grand Union.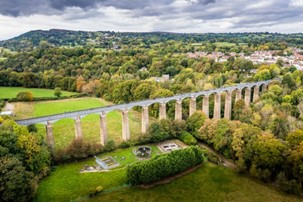 I have a particularly strong memory of crossing Telford's Pontcysyllte Aqueduct and looking down over 100 feet to the river below.  I can remember feeling very scared of what might happen if the trough gave way!
This stimulated my interest in canals, which has remained with me. Before moving to Sussex, I lived in Ireland for a number of years and was an active member of the Industrial Heritage Association of Ireland. We had many trips looking at IA examples, including both active canals there and also the routes of past ones.
Since moving to Sussex and retiring from paid work, I have had more time to indulge in my interest in industrial heritage more generally . I first joined the Sussex Industrial Archaeology Society and quickly became an active committee member. Since the end of lockdown, we have reactivated our trips in the summer and lecture programme in the winter – they are proving very popular with our members.
My other main activity in Sussex is being an active Chair of Amberley Museum. This is an industrial heritage museum that was set up over 40 years ago to conserve and demonstrate industrial and social history in an active working environment. Set in a 41 acre former chalk pit, we have a wide variety of  exhibits, including a narrow railway, a vintage bus collection, fully working print and machine shops, the nationally significant Connected Earth Exhibition, the museum of road making, the Milne Collection of electrical domestic and industrial equipment and many more!
We have a small number of paid staff, supported by over 350 volunteers, who restore, exhibit and demonstrate our collection to over 50,000 visitors a year.
Amberley was very grateful to receive a Restoration Grant from the AIA that is helping us restore a 1952 Smith Rodley Steam Crane to working order. Considerable progress has been made on the project this year, but it is a time-consuming process and unlikely to be completed in the very short term!
I have attended a number of AIA events over recent years, including overseas tours and I was very pleased to become a Council member last year. I have assumed the responsibility of developing a closer relationship with our Affiliated Member Associations. Anyone can contact me about this.