The East-West Workshops on Industrial Archaeology aim to exchange ideas and knowledge among Western and Eastern colleagues to build a more international and diverse industrial archaeology.
The workshops are organised jointly by the Institute for Cultural Heritage and History of Science and Technology (USTB, China), and the Association for Industrial Archaeology together with its Young Members Board.
It is planned to hold two workshop events each year, in the (Northern Hemisphere) Spring and Autumn.
5th East-West Workshop
25th November 2023 10:00 – 12:00 London time
The Architecture of Industry
Modern industrialisation changed the built environment with new materials, technologies, scales and typologies. This workshop edition explores the architecture created for or by industry, and how the post-industrial society transforms and repopulates the spaces of the industrial period. The 5th East-West Workshop on Industrial Archaeology looks at China, England, Greece and Spain to discuss current issues, trends, theoretical and methodological frameworks, and creative approaches in the research, protection, activation and divulgation of historical industrial architecture.
More details and Register via Eventbrite: https://www.eventbrite.co.uk/e/5th-east-west-workshop-on-industrial-archaeology-tickets-746962925217?aff=oddtdtcreator
Recordings of the first four workshops are available on the AIA YouTube channel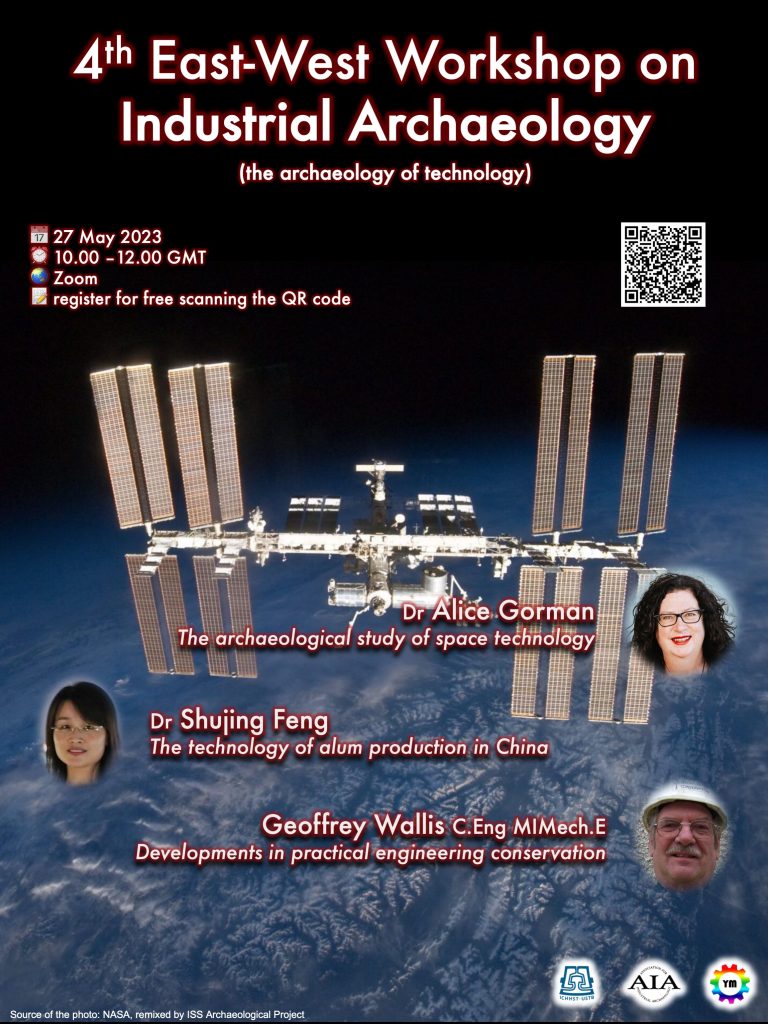 The fourth edition of the East-West Workshop was held on the 27th May 2023. The speakers were:
Alice Gorman (Flinders University, Australia)
"Beyond the rocket: the archaeological study of space technology"
Shujing Feng (National Academy of Innovation Strategy & Tsinghua University, China)
"Wenzhou Alum Mine from the perspective of the archaeology of technology"
Geoffrey Wallis (GW Conservation/Dorothea Restorations & AIA, UK)
"Developments in practical engineering conservation. The works of Dorothea Restorations Ltd."
The third edition of the East-West Workshop was held on the 19th November 2022. The speakers were:
Dongdong WANG (University of Science and Technology Beijing, China)
"Discussion and interpretation of mining and metallurgical cultural heritage in Chinese museums"
Florentina-Cristina MERCIU (University of Bucharest, Romania)
"Diversity in approaching proto-industrial heritage. The water mills from Rudăria area (Romania) as a case study"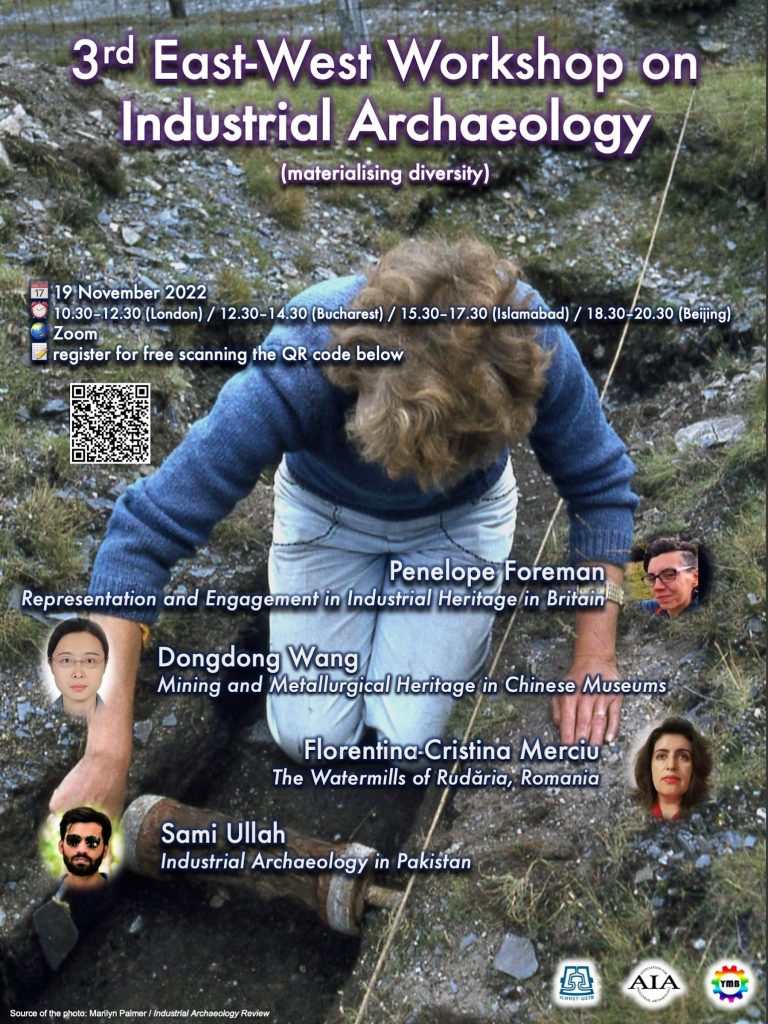 The second East-West Workshop was held on 21st May 2022. The speakers were:
Yuchen Wang (University of Science and Technology Beijing) who spoke on: "Electronic industry heritage: the example of the Chinese display industry"
Otis Gilbert (Wessex Archaeology) who spoke on: "Digging industrial Britain: two case studies from Sheffield and Normanton"
Mário Bruno Pastor (Portuguese Catholic University) who spoke on "The Millano's woollen mills in Portugal: an archaeology of absence"
Tiago Silva Alves Muniz (Federal University of Pará) who spoke on: "The rubber industrial complex and entanglements in the Brazilian Amazon"
The first East-West Workshop was held on 8th May 2021. The speakers were:
Professor Marilyn Palmer (President of the Association for Industrial Archaeology) who spoke on: "Industrial Archaeology in Theory"
Dr. Mike Nevell (Industrial Heritage Support Officer for England) who spoke on: "Industrial Archaeology in Practice in the UK and Europe"
Professor Wei Qian (Dean of the Institute for Cultural Heritage and History of Science and Technology, USTB) who spoke on: "Industrial Archaeology and Heritage in China: A General Overview"
Dr. Juan M. Cano Sanchiz (Associate Professor at the ICHHST. Internationalisation officer for the YMB-AIA) who spoke one: "A Comparative Approach to China and Europe: Differences, Common Points and Potential Lines of Collaboration"