The East-West Workshops on Industrial Archaeology aim to exchange ideas and knowledge among Western and Eastern colleagues to build a more international and diverse industrial archaeology.
The workshops are organised jointly by the Institute for Cultural Heritage and History of Science and Technology (USTB, China), and the Association for Industrial Archaeology together with its Young Members Board.
It is planned to hold two workshop events each year, in the (Northern Hemisphere) Spring and Autumn.
Recordings of the first two workshops are available on the AIA YouTube channel
The main theme of the third workshop, to be held in November 2022, will be "materialising diversity". The
activity aims to bring together works developed by non-male researches, or researches
about the role of women, children, etc. in the industrial society.
Join the mailing list (right) to receive details as soon as they are announced.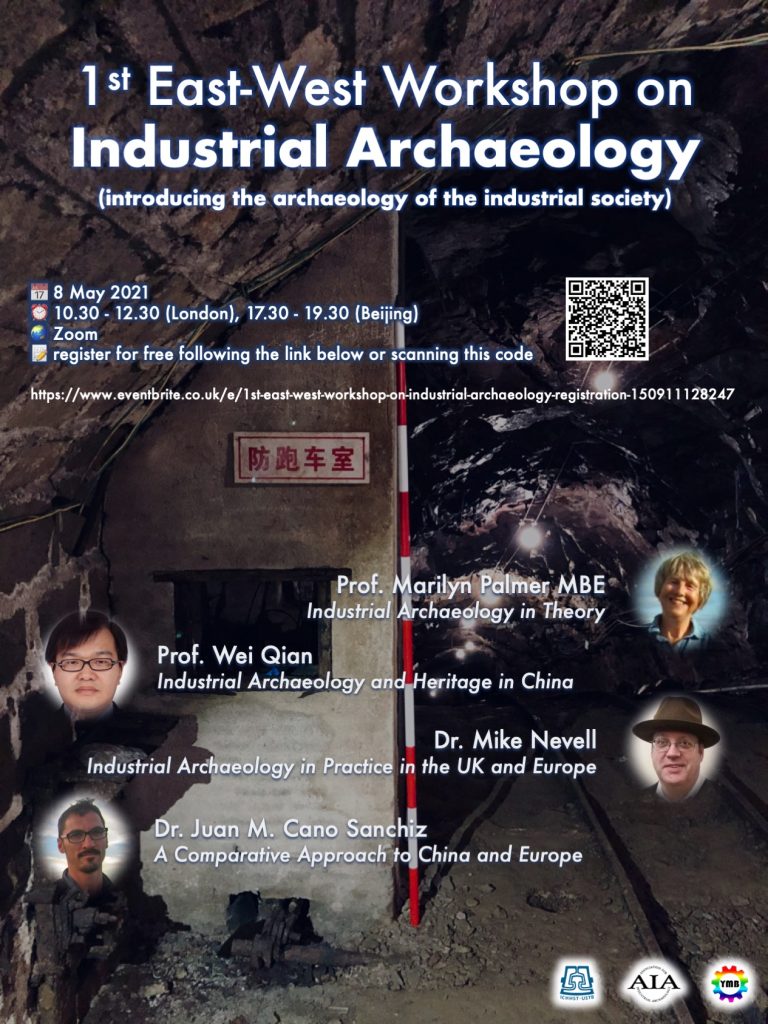 The first East-West Workshop was held on 8th May 2021. The speakers were:
Professor Marilyn Palmer (President of the Association for Industrial Archaeology) who spoke on: "Industrial Archaeology in Theory"
Dr. Mike Nevell (Industrial Heritage Support Officer for England) who spoke on: "Industrial Archaeology in Practice in the UK and Europe"
Professor Wei Qian (Dean of the Institute for Cultural Heritage and History of Science and Technology, USTB) who spoke on: "Industrial Archaeology and Heritage in China: A General Overview"
Dr. Juan M. Cano Sanchiz (Associate Professor at the ICHHST. Internationalisation officer for the YMB-AIA) who spoke one: "A Comparative Approach to China and Europe: Differences, Common Points and Potential Lines of Collaboration"
The second East-West Workshop was held on 21st May 2022. The speakers were:
Yuchen Wang (University of Science and Technology Beijing) who spoke on: "Electronic industry heritage: the example of the Chinese display industry"
Otis Gilbert (Wessex Archaeology) who spoke on: "Digging industrial Britain: two case studies from Sheffield and Normanton"
Mário Bruno Pastor (Portuguese Catholic University) who spoke on "The Millano's woollen mills in Portugal: an archaeology of absence"
Tiago Silva Alves Muniz (Federal University of Pará) who spoke on: "The rubber industrial complex and entanglements in the Brazilian Amazon"