TICCIH UK – National Report 2015
1. The United Kingdom comprises the three countries that form Great Britain – England, Wales and Scotland- plus the six counties of Northern Ireland. Most cultural, economic and planning matters are devolved to each of the home nations, yet the underlying legislation has a common source, and some institutions cross borders, like Network Rail and the UK's Heritage Lottery Fund. Scots drew back from the brink of independence in a 55%-45% referendum vote in 2014.
Some Northern Irish matters are jointly handled across its land border with Eire, like inland waterways. Industrial Heritage Association of Ireland (IHAI) is also an all-Ireland organisation, and may submit a report covering both parts of Ireland. Local authorities in Northern Ireland are having powers returned from central government that they lost during the "Troubles." Many of the conservation initiatives in Ulster are by Building Preservation Trusts such as Hearth. Other off-shore islands like Man, Bermuda and South Georgia have high autonomy. The United Kingdom, but not all of its dependencies, is a member of the European Union.
The most significant change in 2015 is that to the national public bodies responsible for built heritage, or "historic environment".
In England, set up as a government agency in 1983, English Heritage absorbed its sister documentation body RCHME in 1999, but was split into two halves in 2015:
English Heritage is now a charity that directly looks after 400 sites.
Historic England is a government service, the public body that champions and protects England's historic places, with statutory functions of listing, planning, grants, heritage research and advice.[1]
In Scotland, the Royal Commission on the Ancient and Historical Monuments of Scotland (RCAHMS) and Historic Scotland come together in October 2015 to create a new lead public body for the country's historic environment. The provisional name is Historic Environment Scotland -see Historic Scotland and RCAHMS websites. [2]
Wales stays as it is. Cadw (headed by Kate Clark) is the conservation body within the Welsh Assembly government and the Royal Commission on the Ancient and Historical Monuments of Wales is the investigation body and national archive for the historic environment of Wales since 1908.[3]
The Association for Industrial Archaeology (AIA) speaks for the sector and promotes professional standards in the archaeology of the early modern and industrial periods. It's Action Plan (2012-14) set out ways to promote the study of industrial archaeology, to encourage improved standards of research, recording, conservation and the publication of research (Industrial Archaeology Review) and supports conservation of industrial heritage. Keith Falconer, who retired from English Heritage in May 2012, became chair of the Association in 2014, succeeding Mark Sissons. Annual conferences were held in Dundee (2013) and Chester (2014) and are to come in Brighton (2015) and Telford (2016).
NOTE: This is an extract from the full International TICCIH report which can be downloaded here [197 pages]
2. Changing public policies with regard to Industrial Heritage
2a. Protection and management, international
World Heritage Sites that have a primarily industrial nature are Ironbridge Gorge, Blaenavon Industrial Landscape, Derwent Valley Mills, New Lanark, Saltaire, the Cornwall and West Devon Mining Landscape and Pontcysyllte Aqueduct and Canal. There are industrial components within the world heritage sites in the cities of Liverpool (docks and port buildings), Bath (bridges, canals, railways, engineering), the Old and New Towns of Edinburgh (bridges, railways, brewing, printing) and Georgetown, Bermuda. It was through British industry that the UK had worldwide impact, setting a model for others to follow and in due course, to better. Those responsible for the various sites are grouped at www.worldheritageuk.org
The UK has deliberately slowed its pace of nominations, taking stock of what is already inscribed. The UK tentative list, from which properties may be nominated to the World Heritage List, revised in 2012, also includes the Slate Industry of North Wales, Chatham Dockyard and its Defences, Jodrell Bank Observatory, the Lake District in England. Two are no longer on that list: the Great Western Railway and Manchester.
The Forth Bridge, in Scotland, was nominated to UNESCO for inclusion in the world heritage list in 2014, to be considered by the World Heritage Committee in July 2015, the first from the UK to get so far since 2009. Ways of pedestrian access are under consideration. It could become one of four single bridges on the World Heritage List (besides aqueducts and those in landscapes), aiming for criteria: (i) outstanding creation of human genius; and (iv) significance in human history.[4]
 2b. Strategic Activities in Industrial Heritage
 Planning guidance is periodically revised in each country, thus Wales has its conservation principles,[5] and new legislation is proposed, fitting into this framework: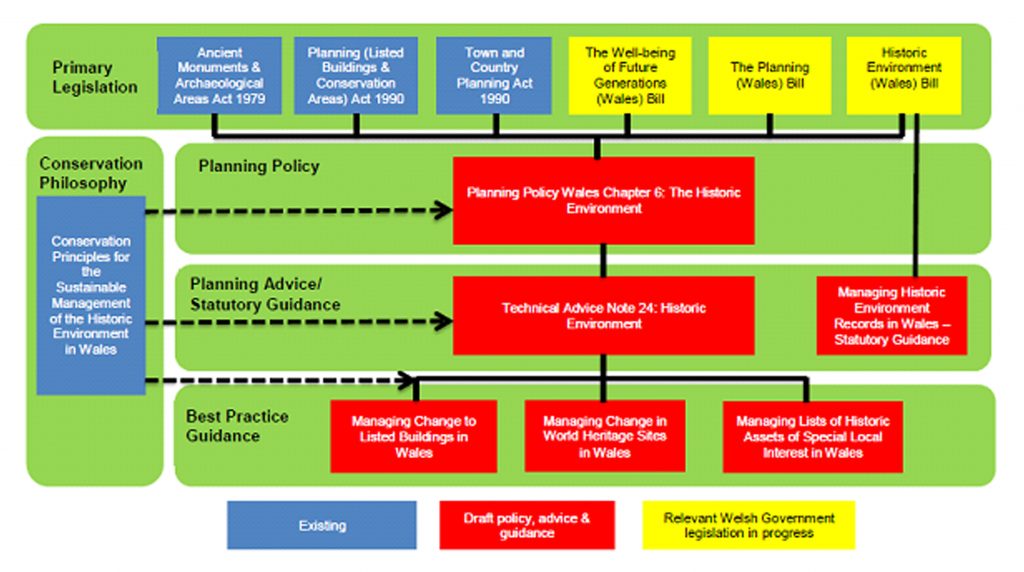 An over-arching "Our Place in Time" strategy in Scotland now has strategies linked to it such as archaeology, and an industrial heritage strategy developed by a broad range of stakeholders, to capitalise on work done by the museums sector late last century.
Sophisticated legislative protection is available to scheduled monuments (mostly no longer in use) and listed buildings (expected to have a use), to Conservation Areas (often urban) and historic landscapes (which in Wales include industrial landscapes). These designations, tied into the UK planning system, are geared towards achieving sustainable development in ways sympathetic to heritage assets, while learning through archaeology and documentation. Industrial 'heritage assets' are stated to be 4% of the designated assets in England. The rate of designation has generally slowed in order to allow public participation.
The Canal & River Trust, former British Waterways, has 3,000 designated 'heritage assets'. Canals and rivers in England and Wales were transferred in 2012 to the care of this new waterways charity, run through thirteen Waterways partnerships –representing 12 regions and one for the charity's waterways museums and attractions (e.g. Gloucester and Ellesmere Port). The Irish canals are unaffected as not previously belonging to British Waterways. Waterways in Scotland remain in the public ownership of Canals Scotland, which has its own heritage strategy looking forward from 2013 to 2038.[6] The Waterways Trust continues as a charity only in Scotland.[7]
Railway viaducts and disused property such as the Eurostar terminal at Waterloo passed in 2013 to the Highways Agency Historical Railways Estate. Renamed "Highways England" in April 2015 in this respect it manages property across Britain. The Railway Heritage Trust supports conservation work on active railways managed by Network Rail, for example Llandudno, Gleneagles and Nottingham stations.[8]
3. Advocacy, Promotion and Support
Guidance arising from the "Industrial Heritage at Risk" (IHAR) [9] theme of the audit by English Heritage in 2011-12 found that:
4% of listed buildings and scheduled monuments are industrial, and 3% of conservation areas were designated because of their industrial significance.
10.6% of industrial listed buildings are at risk, making industrial buildings over three times more likely to be at risk than the national average
The average estimated conservation deficit (cost of repair in excess of the end value) of industrial buildings at risk is twice that of non-industrial buildings at risk. A growing flickr site has around 5000 images: https://www.flickr.com/groups/industrialheritageatrisk   An industrial heritage support officer, located at Ironbridge Gorge Museum, helps the 650 English sites managed by volunteers or local authorities, giving some public access: a direct outcome of Sir Neil Cossons' STIR campaign and "Industrial Heritage at Risk." Development officers in the Architectural Heritage Fund help secure new uses for redundant buildings at risk.. The Heritage Lottery Fund (HLF) distributes 20% of the UK's National Lottery that is allocated to good causes. Industrial and transport heritage meets many of its criteria – socio-economic need, reaching new audiences and achieving participation. Some beneficiaries aim to keep industry operational, through training apprentices, providing interpretation and improving premises, such as at Middleport Pottery in Stoke on Trent and Knockando Wool Mill in Moray. Engineering structures have also benefited like Middlesborough Transporter Bridge (refurbished 2013-15). Main issues and opportunities:
Asset Transfer from public bodies to the third (voluntary) sector
Financial and running costs are difficult to cover.
Succession planning is needed, involving younger generations
Impact of climate change
High scrap values make metal objects vulnerable.
Austerity is the theme under which local and national governmental spending is cut from anything optional, like libraries and museums. This threatens a lot of industrial heritage previously thought to be "saved".
VAT is levied on new work to existing buildings, but not on newly-built homes, so developers are pushed to demolish more than they otherwise would at previously-developed brownfield sites. VAT relief has been removed from listed buildings, a further impediment to their adaptive re-use while the financial incentive to demolish remains in place.
4. Notable conversions, rehabilitations and new site museums:
Ditherington Mill, Shropshire, 1797, the world's first iron framed building, was built as a flax spinning mill, later becoming a maltings until its future was in doubt as it passed through various owners.

Historic England has taken direct action with its repair preparatory to adaptive re-use, and has commissioned a book on its standing archaeology.

Image is Mike Williams' CAD drawing of the world's first iron frame building © English Heritage

Verdant Works, Dundee Heritage: the final phase in repair of this jute textile mill, revealing its iron skeleton and gothic roof, will be completed in 2015.

Pride of place goes to a rotative sun and planet engine by Boulton and Watt installed at a bleachfield in 1802, not seen by the public since 1939.[10]

Image shows the impression on the beams made by the now removed floorboards © Dundee Heritage, by Jim Burns.
Cubitt's Warehouse, King's Cross, London, is now the Central St Martins campus of the University of the Arts, London
Isambard Kingdom Brunel's 1843 Rotherhithe shaft in the Thames Tunnel in London is to become a performance space.
Middleport Pottery, Stoke-on-Trent, won a 2015 Europa Nostra Conservation Award[11]
Coffin Works in the Birmingham Jewellery Quarter: a time capsule where machinery produces coffin furniture: www.coffinworks.org/
Decommissioning of Dounreay Fast Breeder Reactor goes together with documentation. The first nuclear reactor is inside a welded steel sphere 45m in diameter a landmark redolent of the age, 1955-9, in which it was built, or arguably a late realisation of Boullée visions. It will be remembered through interpretation beside Wick airport.
The "Capturing the Energy" Project, jointly between Scotland and Norway, aims to help the North Sea Oil industry to document its heritage. The Archive is in Aberdeen University library, the main funder being Oil and Gas UK.
The Borders Railway reopens in 2015 from Edinburgh to Galashiels, using bridges and track bed of the Waverley Line, abandoned in the 1960s. Some roads and houses had been built on the line, and either had to be acquired or the railway diverted. It is proposed to operate steam and diesel locomotives.
The Forth Bridges Festival[12] focused in 2014 on the 50th anniversary of the Forth Road Bridge. A week of activities culminated in a procession and spectacular fireworks at that suspension bridge. In 2015 the Forth Bridge joined the UNESCO World Heritage List, and in 2016 the Queensferry Crossing cable-stay bridge will be completed, a festival for each one. The bridges are being digitally recorded.
ERIH – a cultural route that links industrial heritage across Europe into more local routes. The East Pennines Industrial Route was launched in 2014, covering a landscape in Yorkshire, England, that includes: (figs. right and below)
Elsecar near Barnsley, Yorkshire: a coal mine pumping engine installed in 1795 is believed to be the oldest in situ Newcomen (atmospheric) steam engine. Repaired in 2014 its beam is now able to move again [13]
Belfast: parts of the Harland and Wolff shipyard are "Game of Thrones" film studios.
Sumburgh Head Lighthouse in Shetland is now open to the public.
Fairfield Shipyard in Govan, largest of the Glasgow shipyards, still makes ships under BAE. However the drawing offices and boardroom, 1890, were surplus to requirements and have been developed by Govan Workspace for small business use with a museum display.[14]
The Scottish Transport and Industry Collections Knowledge (STICK) Network is researching machine tools collections, and a collaborative project on textile history: #stickssn
5. Some setbacks and challenges:
We mark the passing of some of the pioneers in industrial heritage:
Frank Atkinson, Director of Beamish Museum (England's largest open air museum), 90
Christine Ball, Archivist, Sheffield, 65
Ken Hawley, Tools and Trades Historical Society, 87
Sonia Rolt, Inland Waterways Association, 95
Ted Ruddock, engineer and historian of arched bridges, 84
Stuart Smith, Director of Ironbridge Gorge Museum and Secretary of TICCIH, 69The future of the Kirkaldy Testing Works (a London TICCIH 2000 Congress venue) is in doubt, as the ownership has changed despite serving as a museum for 30 years. Battersea Power Station continues to see schemes stumble since an ideas competition was held in 1985. Now a start is again promised, though whether or not the chimneys (cover of Pink Floyd's Animals) should be rebuilt is debated.
It seems that gas holders will almost all vanish from urban skylines, yet a cast-iron one was moved and reconstructed as part of the development of the area north of Kings Cross in London. (fig left by Katriina Etholén)
A seminar to discuss the fate of gas holders was promoted by engineers within the gas industry in 2014 and formed the core of two issues of Industrial Archaeology News.
Concern is also raised about the future for 62m high Koepe winders at Clipstone Colliery in Nottinghamshire. There is only one deep coal mine left in the UK, Hatfield. On the other hand Boulby potash mine, also in Yorkshire, is getting ever deeper at 1400m.
The UK paper industry has seen closures of about 20 mills since 2005, most recently Tullis Russell and Aylesford, leaving around 50, most of which would be considered small in world terms. 
6. Training Programmes
Training generally forms part of courses in archaeology, geography and history at school and university. Several post-graduate qualifications include industrial heritage elements.
The Ironbridge International Institute for Cultural Heritage relocated its teaching campus of 30 years from Ironbridge to Birmingham University, and Harriet Devlin's Historic Environment Conservation Course has transferred to Birmingham City University. A research facility continues to exist in the Long Warehouse of Ironbridge Gorge Museum.
The Institute of Historic Building Conservation (IHBC) is a multi-disciplinary professional body, with private, public, government and third sector members working in building conservation: typically architects or local authority conservation officers. The Institute maintains the highest standards of conservation practice, supports protection and enhancement of the historic environment, and promotes heritage-led regeneration and access for all. //www.ihbc.org.uk/
The Chartered Institute for Archaeology (CIfA) sets standards for professional archaeologists. The archaeology sector has developed research agenda by topic (such as early railways), or region. //www.archaeologists.net/
A broad range of people who interact with the historic environment (that is, everyone) recognises the value of industrial heritage. So the Institution of Civil Engineers (ICE) has initiatives to get historic materials included in civil engineering courses in universities. The Scottish Engineering Hall of Fame makes Rock n' Roll style awards through the Institution of Engineers & Shipbuilders in Scotland. www.engineeringhalloffame.org
The Institute of Mechanical Engineers produced a policy statement recommending [15] that:
The industrial heritage sector works together to share best practice. The Institution of Mechanical Engineers would be willing, as an intermediary, to facilitate connectivity between societies in general or by specialism or issue if requested.
National organisations act to provide advice and guidance to industrial heritage societies on how to maintain and preserve artefacts/sites and establish best-practice guidelines/ core values.
DCMS encourages the relevant national bodies to recognise the importance and potential value of the nation's industrial heritage.
The industrial knowledge of the Institution's 110,000 members is a valuable asset to assist local organisations in preserving industrial heritage for the future.
This report is compiled by the TICCIH GB national representative, Mark Watson. TICCIH GB is simply the membership of TICCIH that is resident here. Several members of TICCIH belong also to AIA, the Newcomen Society (which studies technological history) and to ICOMOS.
7. Publications
Industrial Archaeology Review
Jonathan Clarke, Early Structural Steel in London Buildings (English Heritage, 2014)
Jonathan Coad, Support for the Fleet: Architecture and Engineering of the Royal Navy's Bases 1700-1914 (English Heritage 2013)
David Gwyn, 2015, Welsh Slate: Archaeology and History of an Industry. Aberystwyth: RCAHMW.
Nick Haynes, Scotland's Canals (Historic Scotland 2015)  
Institution of Mechanical Engineers, Engineering Attractions: Visiting Britain's Best Industrial Heritage Sites (2014)
Kathryn A. Morrison, John Minnis, Carscapes – The Motor Car, Architecture, and Landscape in  England (Yale, 2012)
Lynn Pearson, Built to Brew (English Heritage, 2014)
Barrie Trinder, Britain's Industrial Revolution 1700-1870 (Carnegie, 2013)
Peter Wakelin, Pontcysyllte Aqueduct and Canal: World Heritage Site (Canal and River Trust 2015)
Mike Williams, Textile Mills of South West England (English Heritage 2013)
References
[1] //historicengland.org.uk/ and //www.english-heritage.org.uk/
[2] The historic environment record is at //canmore.rcahms.gov.uk
[3] The historic environment records are available online at //www.coflein.gov.uk
[4] //forth-bridges.co.uk/forth-bridge/world-heritage.html
[5] https://cadw.gov.wales/advice-support/conservation-principles
[6] //www.scottishcanals.co.uk/history–heritage/heritage-strategy
[7] //scottishwaterwaystrust.org.uk/
[8] //railwayheritagetrust.co.uk
[9] //historicengland.org.uk/advice/heritage-at-risk/industrial-heritage/
[10] //highmillproject.com/
[11] //www.princes-regeneration.org/middleport-pottery/visit-us
[12] //forthbridgesfestival.com/
[13] //www.elsecar-heritage-centre.co.uk/
[14] //www.fairfieldgovan.co.uk/
[15] //www.imeche.org/knowledge/policy/education/policy/IndustrialHeritage and //imeche-heritage-book.co.uk/preview.pdf